5 Minute update Investment update…Turbulent times…
14/02/2022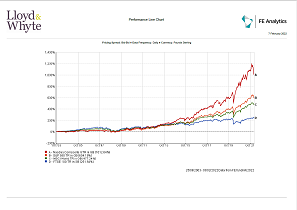 2021 was a challenging year for investors as the possibility of interest rates increasing became more likely with inflation continuing to creep up on a monthly basis. Bond assets, which feature prominently in lower risk portfolios, are particularly sensitive to movements in interest rates. As a result of this some of the bond sub-sectors, particularly Government fixed interest gilts, found trading conditions unhelpful.
In contrast, most equity assets had a strong year helping to support lower risk portfolios whilst benefitting higher risk portfolios which hold a greater proportion of equities.
Central banks have made their intentions clear with the Monetary Policy Committee increasing UK interest rates by 0.15% in December with a further 0.25% in February, making the current UK bank base rate 0.50%. The US Federal Reserve has indicated they are very likely to raise their interest rates at their March meeting with further increases likely to follow throughout the year. In addition to this they are planning to reduce the financial aid they are currently injecting into their economy.
Market rotation… Short-term issues
The start of a New Year and the uncertainty investors are feeling has led to a rotation away from 'Growth' equity stocks, which perform well in a low interest rate environment, to 'Value' stocks which can prove more resilient in difficult trading periods.
Growth stocks expect to grow their sales and earnings at a faster rate than the market average. Technology companies fall into this category, as they generally prefer to retain their profits to reinvest in their businesses. This helps them to innovate and grow faster rather than paying too much of their profits as dividends to investors. This sector includes some of the world's largest and best-known companies. Consequently, investors are happy to buy into these even though the price they pay is currently at the 'premium' end of the market.
Value stocks tend to be in long established companies in areas like banking, oil, mining, industrial and utilities and are usually characterised as high dividend paying companies. Fundamentally, these companies provide the things or services we need, rather than the things we may want! The share prices of value companies generally trade much closer to their intrinsic value, rather than paying an inflated price for potential future growth, and it is because of this it makes them more appealing in challenging market conditions.
The recent turbulence seen in equity markets is best illustrated in the line graph below. The UK based FTSE 100 index incorporates several value-based sectors and has performed very well since the start of the year. Global and US stocks, represented by the MSCI World and S&P 500 indexes have had a bit of a bumpy start, falling by around 4% this year to date. The Nasdaq Composite is a heavily tech-based index which is clearly lagging, with a mini rally helping to regain some of its losses.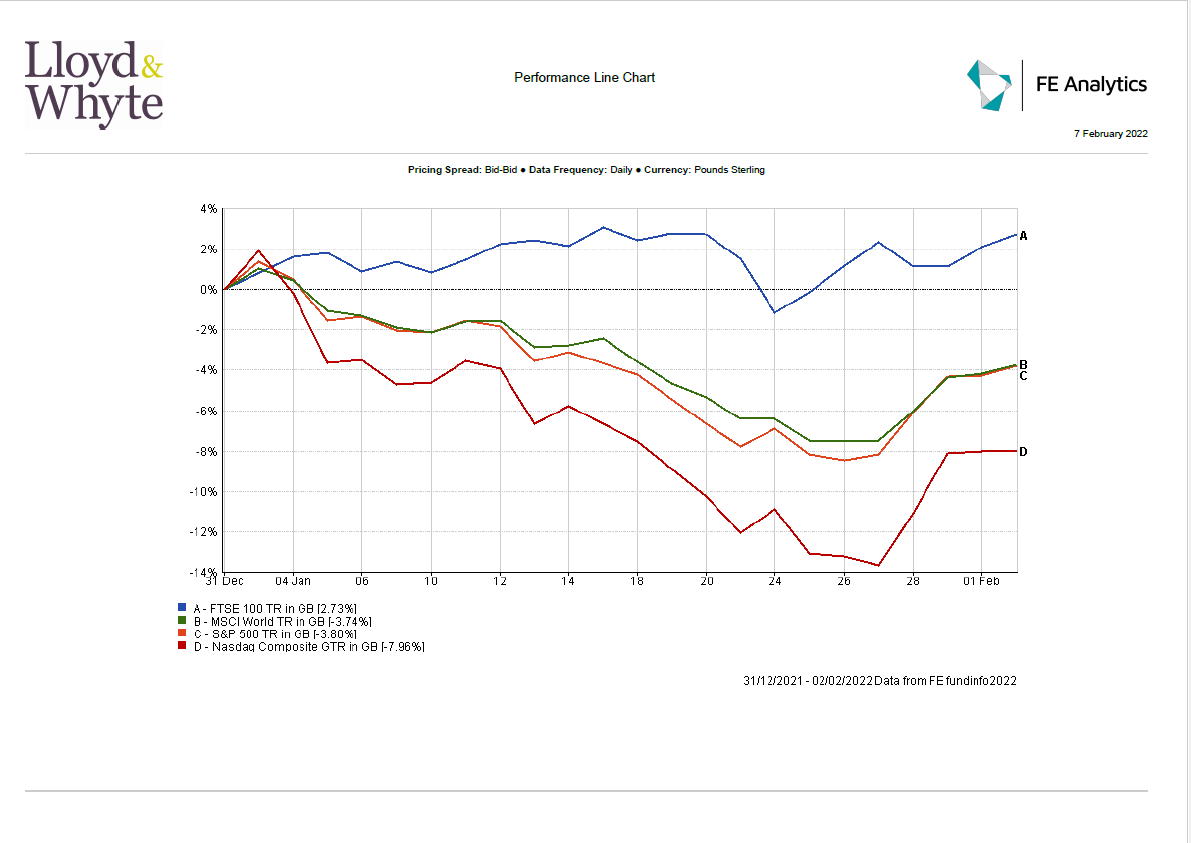 This has not been good news for some of our investment arrangements and understandably impacted on the portfolio values in the short-term. Investors will remain edgy, which will fuel greater fluctuations in asset prices which we usually refer to as 'volatility'. Although this can be unsettling, it is usual for markets to experience heightened periods of this from time to time.
The prices of equity assets have the potential to swing quite sharply on a daily basis and that is why these are considered high risk assets. Investment arrangements with a high equity content will see their reporting values move more than we've recently become accustomed to. What we do know is that for long term investors we expect asset class performance to revert to mean, effectively levelling out to its long-term average.
Focusing on the long-term
The chart below compares how the indexes in the above chart have performed when measured over a a longer investment period that includes some notable market falls. As seen markets recover and it is why we promote using a broad mix of investment holdings across global regions in our portfolios.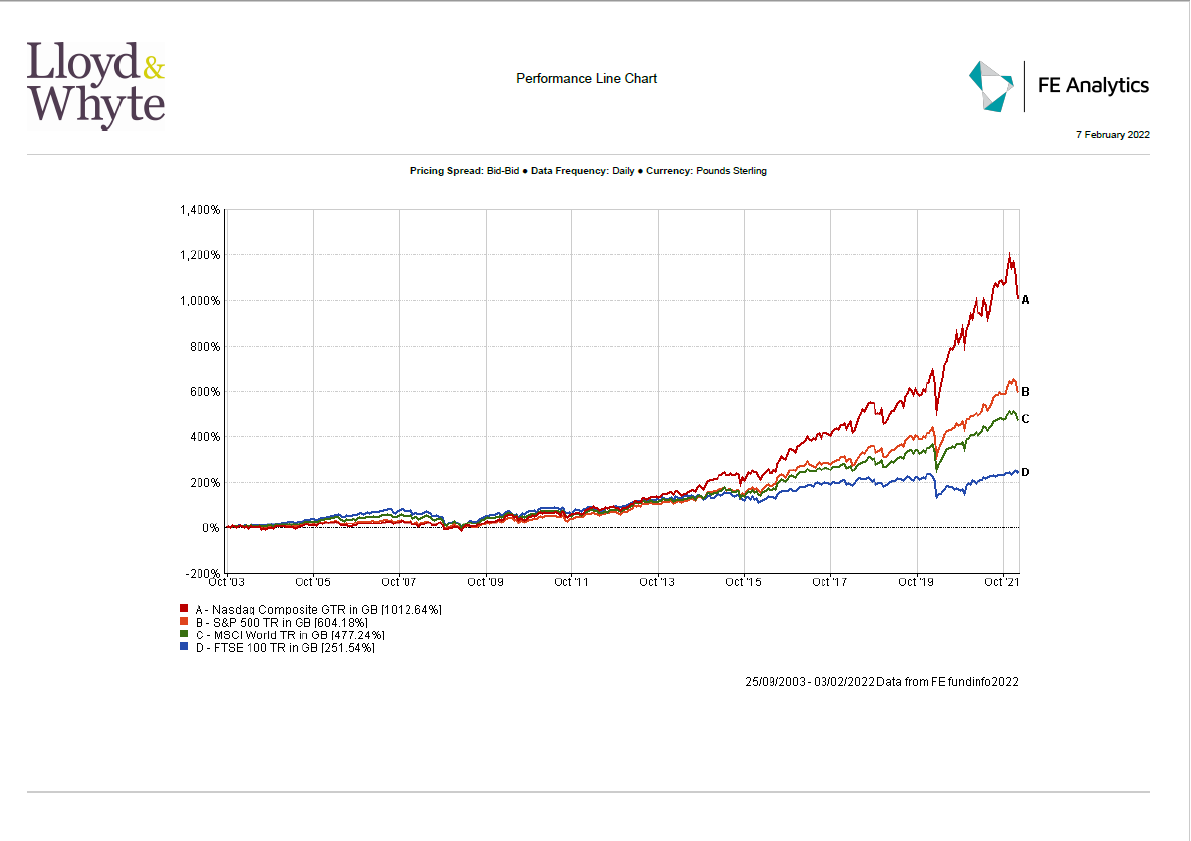 In periods of high volatility and particularly when values fall, investors can feel very uncomfortable and decide to act, sometime rashly. In these moments it is helpful to focus on the overall investment objectives and not be too distracted by short-term events. Most of us are investing for the longer-term and it is important not to allow our behavioural instincts to lead us into making poor, emotionally driven decisions.
Avoid trying to time markets
The table below is from an article produced by Schroders, a leading investment management group, which helps to show that remaining calm and sticking with the investment strategy often leads to the best outcomes. This shows how £1,000 invested on the 1st January 1986 would have performed had it been invested in any of the three main UK indexes over a 35 year period (to 1st January 2021). Most importantly it shows what the values would have been if the investment missed out on the best 10, 20 and 30 trading days. These values assume that any dividends paid would be immediately reinvested – total return basis.
| | | | | |
| --- | --- | --- | --- | --- |
| Index | Invested the whole time | Missed the best 10 days | Missed the best 20 days | Missed the best 30 days |
| FTSE 100 | £17,323 | £8,483 | £5,282 | £3,461 |
| FTSE 250 | £43,595 | £24,156 | £15,487 | 10,627 |
| FTSE All-Share | £19,452 | £9,932 | £6,352 | 4,264 |
Clearly the compounding effect of missing out on only the best 10 trading days is very significant. It is why we focus on the longer-term and understand the pitfalls of attempting to time markets, as some of the best trading days tend to follow some of the worst. Although this focuses on the UK equity markets it is a similar story for other leading global indexes.
A link to this article is available at; https://www.schroders.com/en/uk/adviser/insights/markets/time-in-the-market-not-timing-the-market-ftse/
Stay focused on the investment objectives
Price volatility is normal and is all part of the investment journey. It is usual for markets to experience these. It appears this is likely to continue in the first half of this year as markets adjust to the revised economic situation so we can expect a few more bumps along the way. At Lloyd & Whyte, we continue to monitor the performance of our investment portfolios and remain confident these will deliver the outcomes we expect, but if you have any concerns, please contact your adviser who will be pleased to help.
Get in touch
Your Independent Financial Adviser is on hand to answer any questions you may have.
Lloyd & Whyte (Financial Services) Ltd are authorised and regulated by the Financial Conduct Authority. Please note that investments in a Stocks & Shares ISA are not guaranteed and can fall in value as well as rise. Ultimately you could get back less than you invest. It is important to take professional advice before making any decision relating to your personal finances. Information within this newsletter is based on our current understanding of taxation and can be subject to change in future. It does not provide individual tailored investment advice and is for guidance only. Some rules may vary in different parts of the UK; please ask for details. We cannot assume legal liability for any errors or omissions it might contain. Levels and bases of, and reliefs from taxation are those currently applying or proposed and are subject to change; their value depends on the individual circumstances of the investor. The value of investments can go down as well as up and you may not get back the full amount you invested. The past is not a guide to future performance and past performance may not necessarily be repeated. If you withdraw from an investment in the early years, you may not get back the full amount you invested. Registered in England No. 02092560. Registered Office: Affinity House, Bindon Road, Taunton, Somerset, TA2 6AA.