Inflation and Interest Rates – Should this prompt a change to your investment approach?
18/05/2022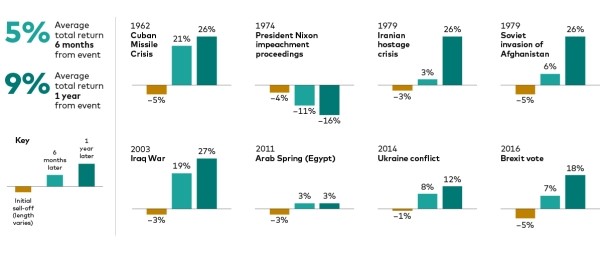 It has been impossible to avoid hearing about the effects of inflation and interest rates on markets at the moment, with 2022 looking set to be a tough year for your investments.
Inflation Pressures
The annual inflation rate in the UK increased from 6.2% in February to 7% in March of 2022; the highest since March of 1992. Most of this due to continued pressure from rising fuel costs, with the government already taking action to implement a 12-month reduction to fuel duty in an effort to relieve some pressure in this area. However, inflation is likely to remain high throughout 2022 while supply chain disruption and the crisis in Ukraine continues1. The UK's Office for Budgetary Responsibility is currently estimating that real incomes will fall by over 2% in 2022/232.
In the U.S, the annual inflation rate also reached a 41-year high of 8.5% in March, up from 7.9% in February3. Though many are predicting that this will be the peak for US inflation, the underlying issues are far from over.
Interest Rate Increases
The knock-on effect of rising inflation is the inevitable raising of interest rates by central banks, with more to come as 2022 progresses.
In the US, the Federal Reserve increased rates by 0.50%, marking the largest rate hike in 22 years4. Further similar increases are to be expected in June and July, with some Federal Reserve officials also considering bigger hikes going forward.
Closer to home, the Bank of England increased interest rates to 1% from 0.75%, a significant moment with this being the highest level seen since 2009. Policymakers say global inflationary pressures have intensified sharply following Russia's invasion of Ukraine which has led to a material deterioration in the outlook for UK growth5. With inflation set to continue to rise, we can expect further interest rate increases throughout the year as the Bank of England seeks to bring inflation back under control.
Should I Change My Investment Plans?
Aside from the obvious pressures that rising inflation and interest rates have on our day-today living, another key concern is how this may affect the investments you already have, or may be planning to make?
While this may not be easy in the current situation, our view is that we remain prepared to ride out what may come and try to keep emotions out of investing decisions. Although this is probably easier said than done (no one likes to see their savings fall in value), when it comes to investing for the medium and long term, it's best to resist the urge to deviate from any existing plans and to remain focused on long term investment patterns.
Although in the world of investing there are no guarantees, Vanguard has produced a study covering more than two dozen geopolitical events of the past 60 years, some of which roiled the markets, to offer some perspective on how financial markets could react to the crisis in Ukraine: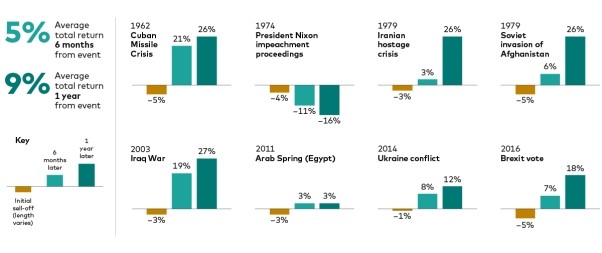 Notes: Returns are based on the Dow Jones Industrial Average to 1963 and the Standard & Poor's 500 Index thereafter. All returns are price returns, expressed in US dollar terms and do not include investment costs.
Sources: Vanguard calculations, as of 31 December 2021, using data from Refinitiv.
How Lloyd & Whyte Can Help
In light of the current volatility, now more than ever could be a perfect time to speak to one of our Lloyd & Whyte Independent Financial Advisers, many of whom have previously experienced significant market downturns. Our Independent Financial Advisers would be happy to speak with you about your own personal situation and how current events may affect your investments or future plans.
An often underplayed advantage of professional advice is simply having someone there to talk to and benefit from a second opinion, as we often don't talk about personal finance with even our closest friends or family.
Staying the Course
Times like these are the exact reason for the detailed risk assessments and capacity for loss discussions that our Financial Planners undertake with their clients. To make sure that through conversation and education, our clients are well positioned to only be exposed to the levels of risk that they are willing to take.
So, although uncomfortable and unpredictable, current concerns should be expected and accepted as part of the investment process. In the words of John C Bogle, Founder of Vanguard:
"Stay the course. No matter what happens, stick to your program. I've said "stay the course" a thousand times and meant it every time. It is the most important single piece of investment wisdom I can give to you."
Get in touch
Give us a call to speak to one of our team and we will answer any questions that you may have.
https://www.ons.gov.uk/
https://obr.uk/box/developments-in-the-outlook-for-household-living-standards/
https://www.bls.gov/cpi/
https://www.federalreserve.gov/
https://www.bankofengland.co.uk/